IN THE HEART OF THE SEABED
IN THE HEART OF THE SEABED
Stay of
8 days / 7 nights
*Low season rate in Sun Sea Discover Formula. For a crew of 6 people, Cruise with skipper, airport / marina transfers Paddles, delayed return supplements, administration fees and cleaning fees included.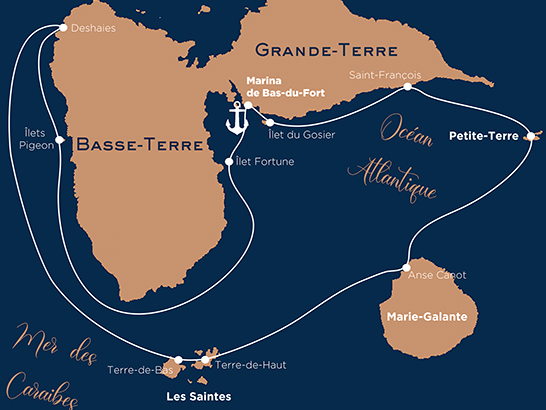 Summary :
D.1 : Boarding at Bas-du-Fort Marina – Overnight at Ilet du Gosier
D.2 : Petite-Terre – Night in Petite-Terre
D.3 : Marie-Galante – Night at Anse-Canot
D.4 : Les Saintes – Night at Pain-de-Sucre
D.5 : Deshaies – Night in Deshaies
D.6 : Malendure – Night in Malendure
D.7 : Fortune – Night at Fortune
D.8 : Gosier – Landing at the Bas-du-Fort Marina
Attention :
Itinerary, activities and anchorages are subject to change depending on weather conditions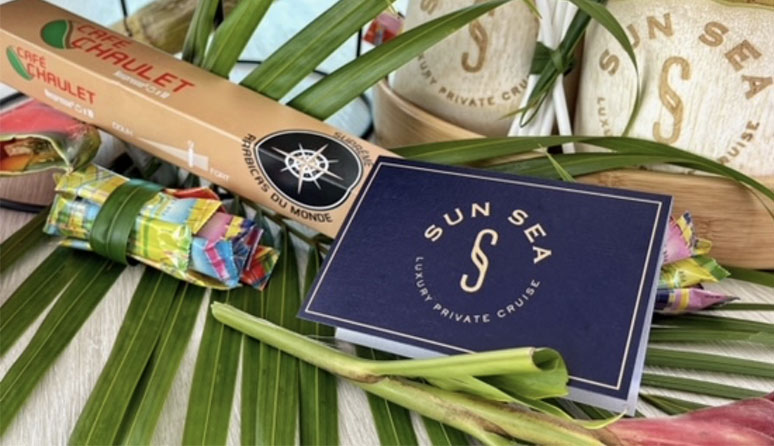 Après ce long vol, vous voilà arrives sur « l'iles aux belles-eaux ». Vous retrouvez un des membres de l'équipe Sun Sea avec qui vous ferez la rencontre de votre prestigieux catamaran à moteur Leopard Powercat de 43 pieds. A 17h00, vous embarquez pour votre première nuit à bord et mettez le cap vers le célèbre îlet du Gosier. Imaginez face à vous un îlet paradisiaque entouré d'eau cristalline et de sable blanc, une déconnexion totale ! You meet with one of the Sun Sea agents that will bring you to your prestigious power catamaran, a Leopard 43 Powercat. It's 5 PM, welcome on board! For your first night you will be heading to "Ilet du Gosier". Emerging right before your eyes, there is a wondrous picture of tropical island surrounded by crystal clear water and white sand… It's time to switch off from your routine! Let's celebrate the beginning of this journey and enjoy your cocktail dinner composed with our prestigious partners: Island You, Fabienne Youyoutte Ice Creams and Longueteau Rums. Creatives recipes and traditional know-how, that honor local products. ** Night : Ilet du Gosier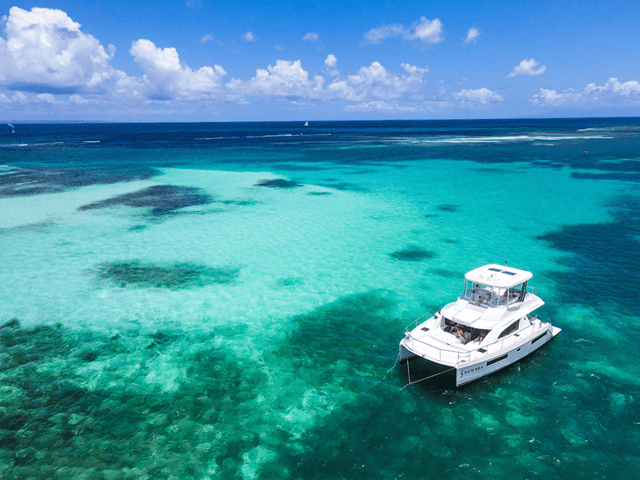 First sunrise on the horizon and it's time to meet Audrey, a young beekeeper, passionate by her job that her dad started to do before her. Let yourself be guided by this bee lovers that will come on board to make you taste 7 of her delicious honeys. Exceptional products made with love by her bees' gang. After your first breakfast onboard, you will take the direction of the splendid Lagoon of Saint-Francois. Welcome at "Le Rhumarin" for your lunch. Chef Anthony is going to make you taste a unique fusion cuisine, seated in front of the lagoon. After that, you will head to one of the most beautiful Wildlife Sanctuary of Guadeloupe: Petite Terre. Open your eyes and let yourself be dazzled by the beauty of this isolated and wild place. Indeed, you just landed in paradise. Why not, get out of your catamaran and go for a stroll on the island? You could spot some of the locals: Hermits crabs or iguanas. ** Night : Petite-Terre
If you enjoy being up for sunrises, this one is worth the candle! Petite-Terre offers you a complete and clear view at the horizon. An amazing opportunity to watch the sun rising up from the ocean.
Noa Plongee team's
going to meet you at
Petite-Terre
to dive into a magnificent atmosphere. A unique encounter with sharks, rays and numerous of tropical fishes. An incredible and colorful broomstick dance is happening in this crystal-clear water. Open your eyes, dolphins and turtles are often around the corner. On the afternoon, you are heading to another island of the archipelago: Marie-Galante. For dinner, hold your culinary taste buds with creatives Caribbean's recipes at
La Table du Pere Labat
. Tonight, why not enjoying less light pollution and go on the Sun bed for a session of
stargazing
?
** Night: Anse Canot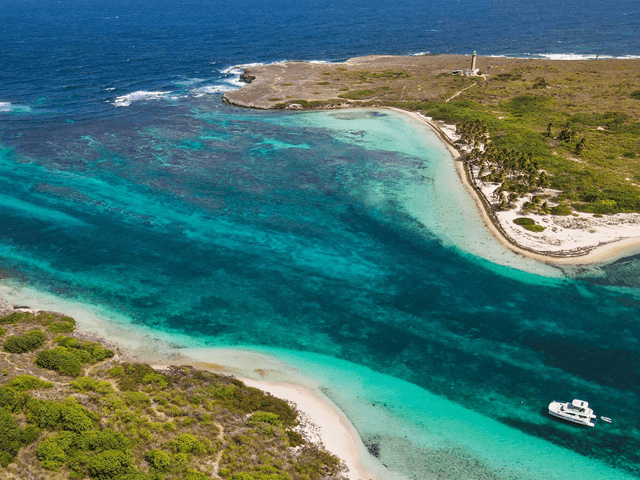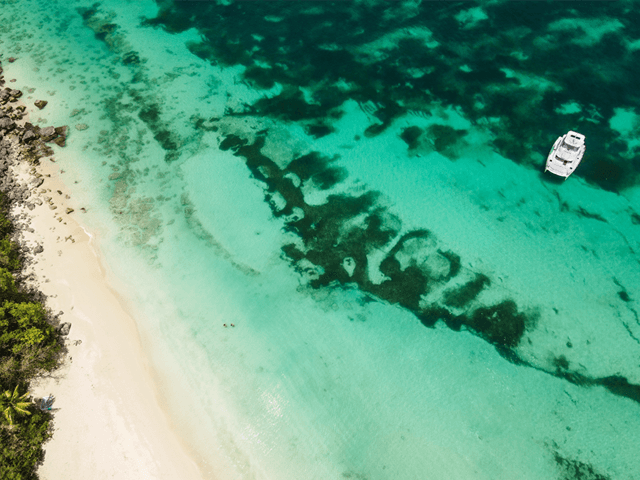 Good morning on the island of the 100 mills: Marie-Galante. With less tourists than its neighbors, this island will charm you with its authenticity! Step back in time, it's like seeing how life was in Guadeloupe about 50 years ago. Today, it's with
Manbalaou's
team, passionate by Marie-Galante and its underwater world that you discover some of the most beautiful diving spots of this island. With crystal clear water, breathtaking coral architecture and loads of marine species, Marie-Galante is a paradise for divers. After that, you are heading toward another island of the archipelago. Welcome to Les Saintes! You will first moor near the small town of Terre-de-Haut. From there you could go on a little adventure along the colorful houses of fishermen. Get the chance to enjoy the taste of some local specialties like the Fish Crepes or "
Tourments d'amour
" (Caribbean fruits pastry). Tonight, you have dinner at Au Bon Vivre. Experience the 3 courses meals to discover the universe of Chef Thibault and its creole fusion cuisine. A true invitation to travel with recipes made to enhance the richness of local products. An unforgettable experience!
** Night : Pain de Sucre **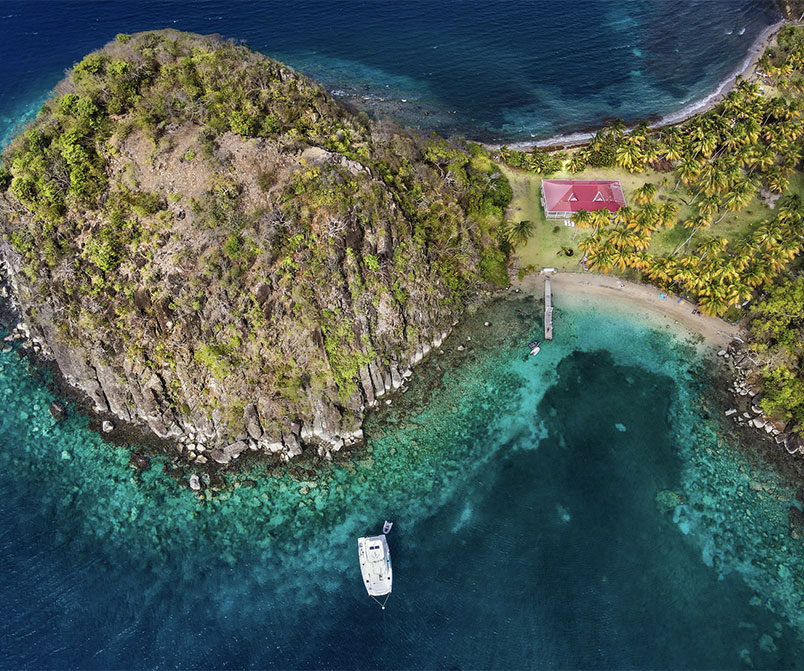 There is nothing more idyllic than opening your eyes in front of such a beautiful scenery! Today, wake up in one of the most beautiful bays in the world! This morning, you are waited by the
Team of Pisquette
to dive into this amazing blue world. Let yourself be guided by this magic place and its magnificent underwater scenery. For N4 GP ou Dive Master: The diving spot of « Sec pate » is one of the most known of the French west indies. A mountain chain under the sea from 18 to 300 meters deep! For lunch, welcome for a gourmet moment,
weightlessly
seated facing the small island of Cabrit. Marc's team is waiting for you at "
Les Balançoires
" for highly colorful and tasty meal. From there, you are heading to Deshaies. Grande-Anse, located on the North West of the island of Basse-Terre, its golden sand contrast very well with the turquoise color of the Caribbean Sea. Did you know that this place is the shooting location of the internationally successful British TV Show: "Death in Paradise"? Open your eyes, you might be able to spot one the actors.
** Night: Deshaies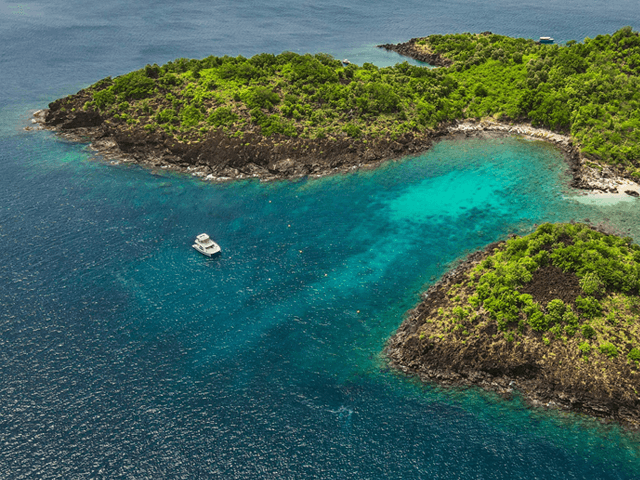 Today, you are heading to
Pigeon Islands
located off the shore of Bouillante. Welcome at the most famous diving spot in Guadeloupe: The
Cousteau Reserve
. With "
Les Heures Saines
" come and discover the richness of this submarine world and his habitants. Doctor fishes, starfishes, colorful reefs and much more waiting for you out there. Also, you can spot, the famous bust of the Captain Cousteau resting in the Garden of Coral at 12 meters deep. For lunch, see you at
La Touna!
Ideally located on the sea side, this place offers you a view at 180° on the Caribbean Sea, Ilet Pigeon and Cousteau Reserve. A perfect spot to discover the cuisine of the local chef.
** Night : Malendure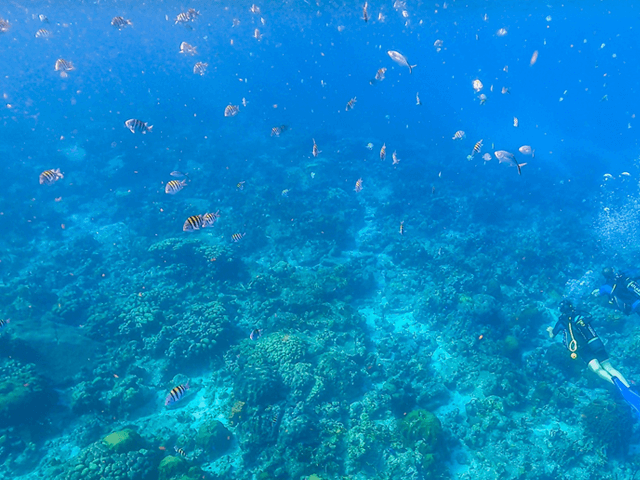 For you last day, you meet up again with
Les Heures Saines's
team to go and see one the wreck of the protected area of Cousteau. On the afternoon you are heading to
Ilet Fortune
. For your last dinner aboard. A catered dinner from
O'Z'epices
is waiting for you. The cuisine of the talented Chef
Jimmy BIBRAC
is reflecting his creole culture. A real laboratory where local flavors meet creativity and modernity!
** Night : Ilet Fortune
It is now 9AM, your cruise is ending at the Marina de Bas-du-Fort. It's time to take all these memories you made and meet one of our Sun Sea agents.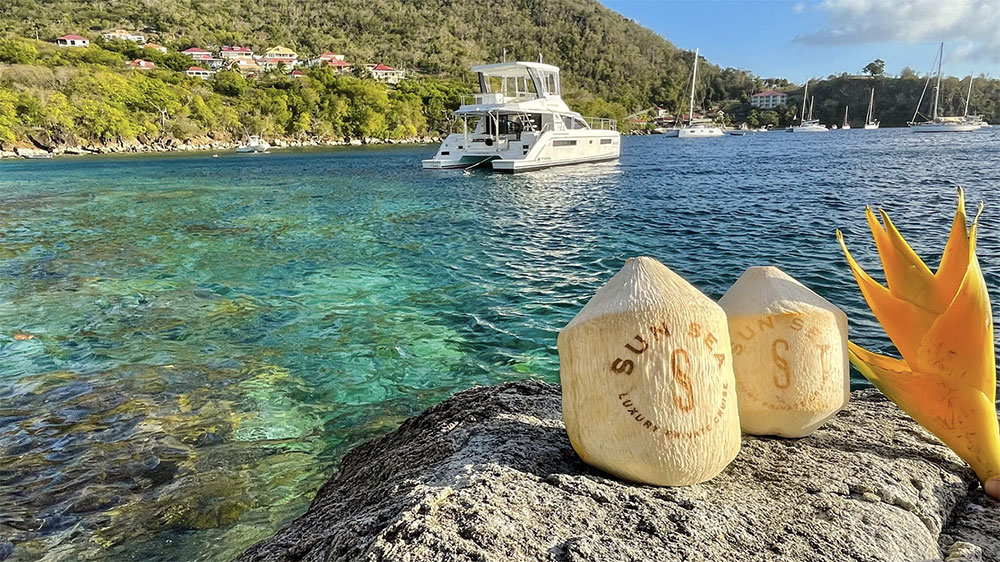 Does this cruise interest you ?
Contact us specifying the themed cruise chosen and the Sun Sea formula best suited to your desires.
*Low season rates calculated on the basis of a crew of 6 passengers