Stay of
4 days / 3 nights
*Low season rate in Sun Sea Discover Formula. For a crew of 6 people, Cruise with skipper, airport / marina transfers Paddles, delayed return supplements, administration fees and cleaning fees included.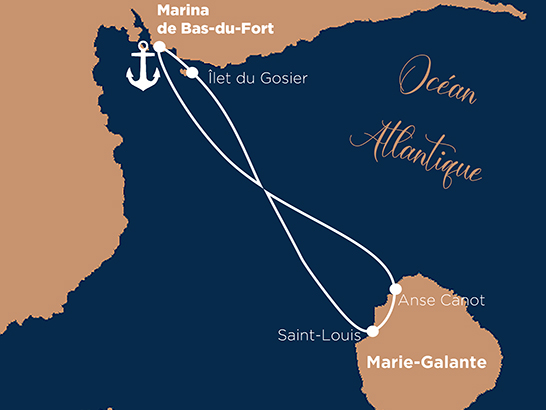 Summary:
D.1 : Boarding at Bas-du-Fort Marina – Overnight at Ilet du Gosier
D.2 : Marie-Galante – Night at Anse-Canot
D.3 : Marie-Galante – Night in Saint-Louis
D.4 : Gosier – Landing at the Bas-du-Fort Marina
Attention :
Itinerary, activities and anchorages are subject to change depending on weather conditions
* Rate base for diving: Openwater level for any other levels an extra cost will be apply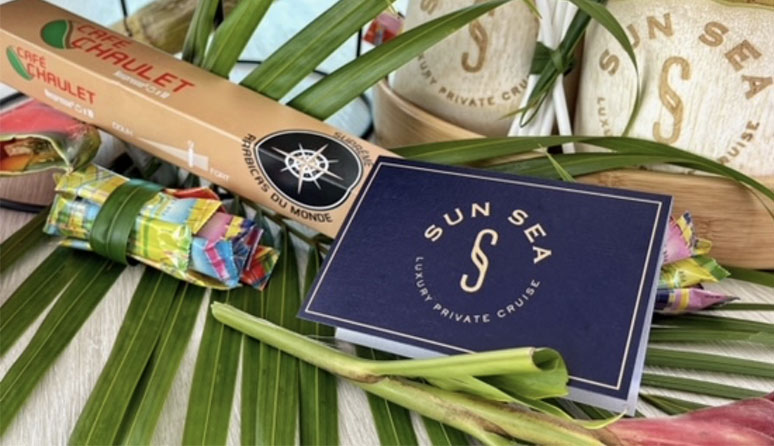 You meet with one of the Sun Sea agents that will bring you to your prestigious power catamaran, a Leopard 43 Powercat. It's 5 PM, welcome on board! For your first night you will be heading to "
Ilet du Gosier
". Emerging right before your eyes, there is a wondrous picture of tropical island surrounded by crystal clear water and white sand… It's time to switch off from your routine! Let's celebrate the beginning of this journey and enjoy your cocktail dinner composed with our prestigious partners:
Island You, Fabienne Youyoutte Ice Creams and Longueteau Rums
. Creatives recipes and traditional know-how, that honor local products.
* Night : Ilet du Gosier
First sunrise on the horizon and en route to the island of the 100 mills: Marie-Galante. With less tourists than its neighbors, this island will charm you with its authenticity! Step back in time, it's like seeing how life was in Guadeloupe about 50 years ago. For lunch, you are waited at "Chez Henri"! You discover, seated, feet on the sand, an amazing Caribbean cuisine, made by this passionate chef. From there, it's time to immerse yourself in a moment of art at the Creative Indigo Workshop with Pierre. A great opportunity to experience a unique and ancestral process of vegetal and natural dyeing. Free time for the rest of the day. Tonight, why not enjoying less light pollution and go on the Sun bed for a session of stargazing?
* Night : Anse-Canot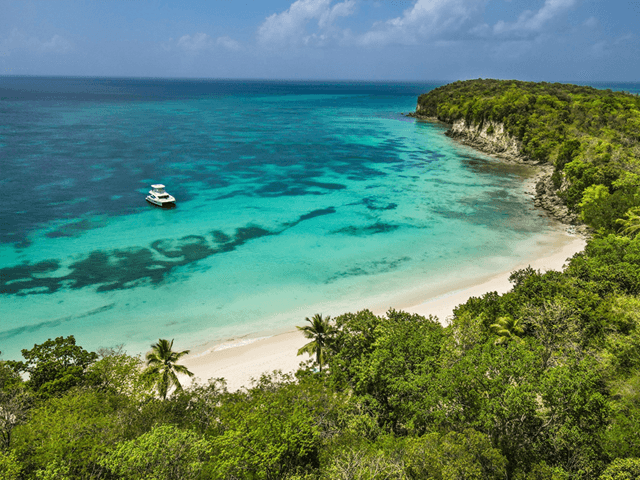 There is nothing more idyllic than opening your eyes in front of such a beautiful scenery! Today, wake up in one of the most beautiful bays in the world! Back on land, your local guide Alex BRUTE drives you in his mini bus to explore around this amazing island. You stop at Labat Distillery to dive into the fascinating history and culture of Rum! After the visit it's time for the Rum testing! Why not taking this opportunity to grab your favorite bottle and bring it back home? From there, hold your culinary taste buds with creatives Caribbean's recipes at La Table du Pere Labat.
*Nuit : Saint-Louis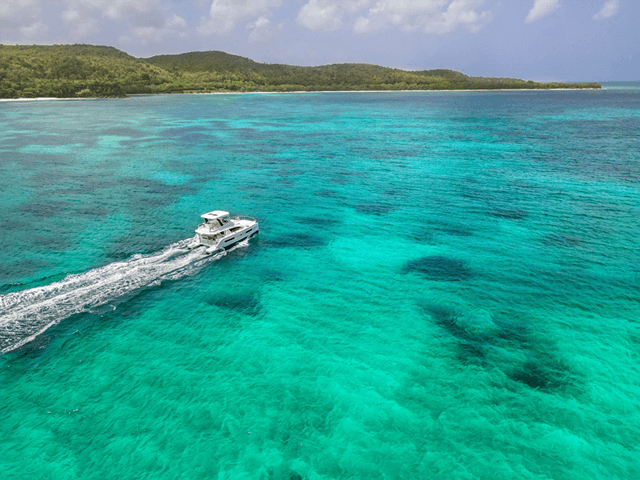 Today you are going to discover the underwater world of Marie-Galante. With crystal clear water, breathtaking coral architecture and loads of marine species, Marie-Galante is a paradise for divers. It's with Manbalaou's team, passionate by Marie-Galante and its underwater world that you discover some of the most beautiful diving spots of this island. For lunch, you are going to "La Baleine Rouge". Number 1 of Marie-Galante's restaurants. It's comfortably seated on a sea view deck you will taste some atypical and fusion recipes. On the afternoon, you are heading back to the "Marina". It is now 5PM, your cruise is ending at the Marina de Bas-du-Fort. It's time to take all these memories you made and meet one of our Sun Sea agents.
Does this cruise interest you ?
Contact us specifying the themed cruise chosen and the Sun Sea formula best suited to your desires.
*Low season rates calculated on the basis of a crew of 6 passengers