MARTINIQUE RELAX:
YOGA & WELL-BEING
Stay of
4 days / 3 nights
*Low season rate in Sun Sea Discover Formula. For a crew of 6 people, Cruise with skipper, airport / marina transfers Paddles, delayed return supplements, administration fees and cleaning fees included.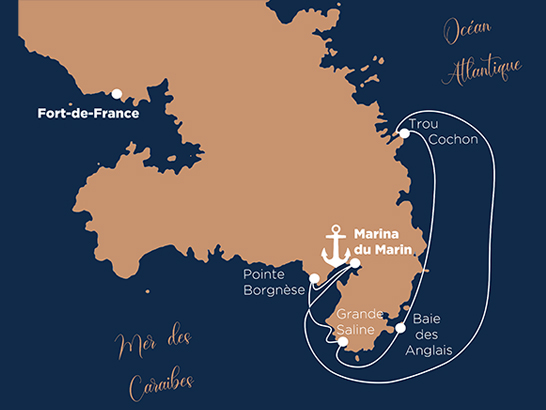 Summary :
D.1 : Boarding at the Marina du Marin – Night at the sailor or at Pointe Borgnèse
D.2 : Le François – Night at Ilet Long
D.3 : Tartane – Night at the Baie du Trésor
D.4 : Saint Pierre – Night in Saint Pierre
Attention :
Itinerary, activities and anchorages are subject to change depending on weather conditions
You meet a member of the Sun Sea team with whom you meet your prestigious 43-foot Leopard Powercat motor catamaran.
At 5:00 pm, you embark for your first night on board. Tonight, you have two options: you can spend the night at the Marina du Marin or at the Pointe Borgnèse anchorage.
Once moored, you can celebrate the beginning of this new adventure and enjoy your cocktail dinner basket composed by our prestigious partner: Khloé Lokal Food. Creative products and recipes that honor local products and homemade drinks with Martinique flavors.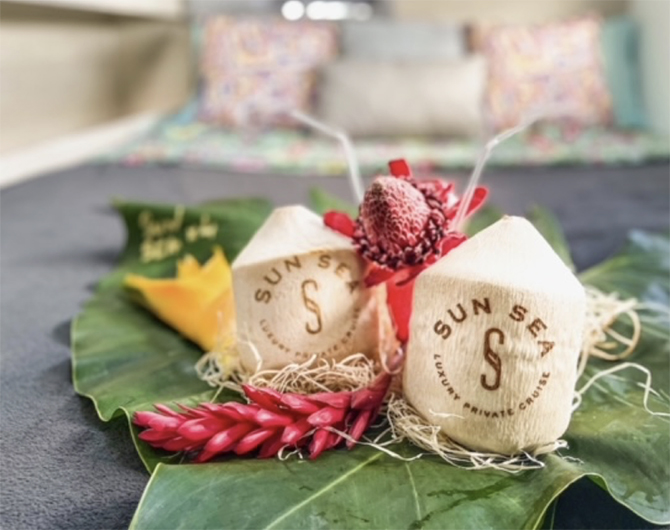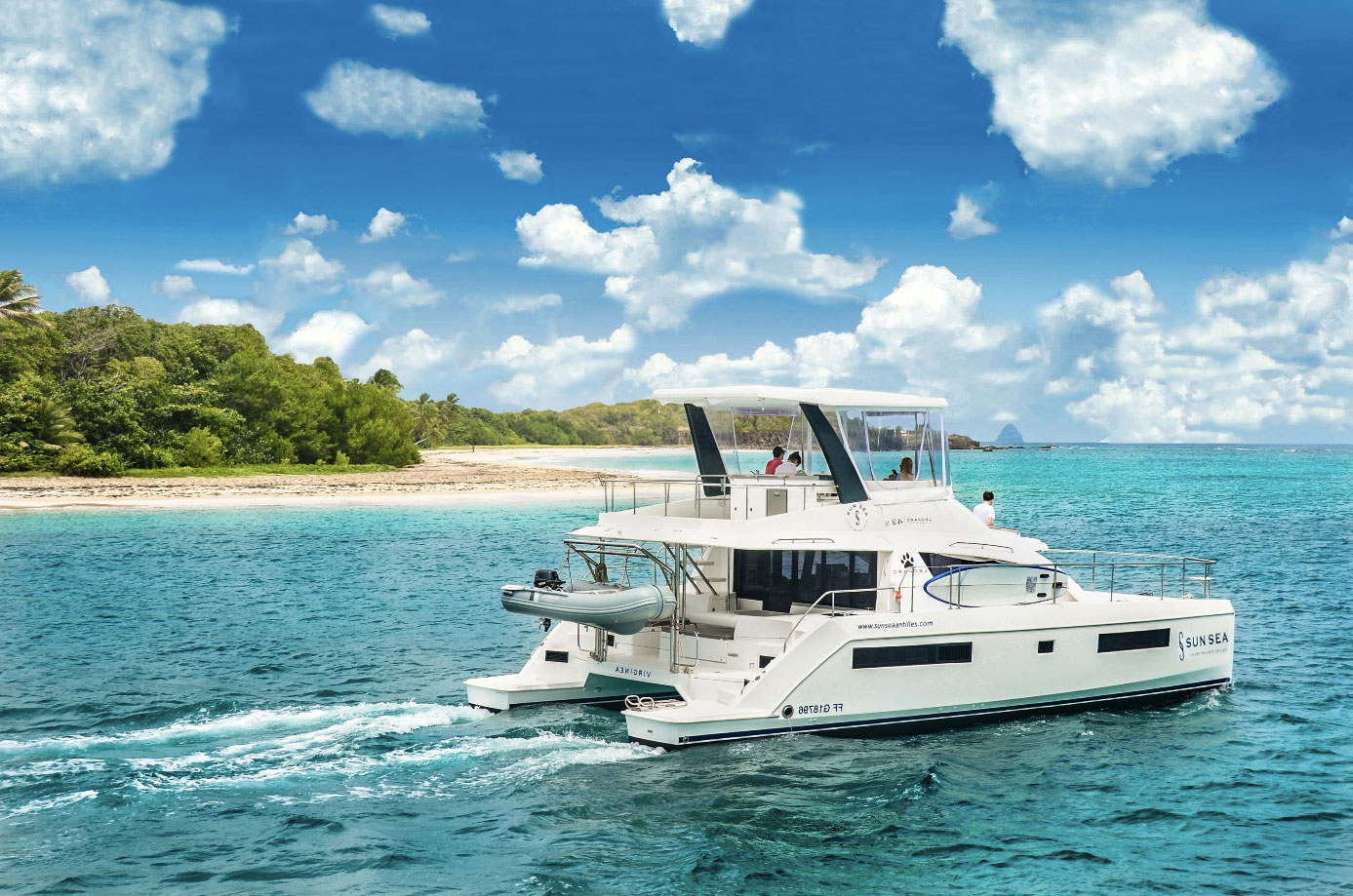 This morning, meet your yoga teacher to start the day with a Hatha Yoga class in the exceptional setting of Pointe Borgnèse. You will wake up your body and mind in harmony with this place famous for the beauty of its sea bed. Then head towards Anse Meunier, a large beach of fine sand, not very frequented and lined with vegetation. A real postcard! Enjoy a moment of relaxation by swimming in its turquoise waters. Tonight, you will sleep at the famous beach of Grande Anse des Salines with its white sand and its coconut trees leaning over the sea. At the end of the day, you will meet your yoga teacher for a new Yin Yoga session. You will live your evening with a theme of your choice.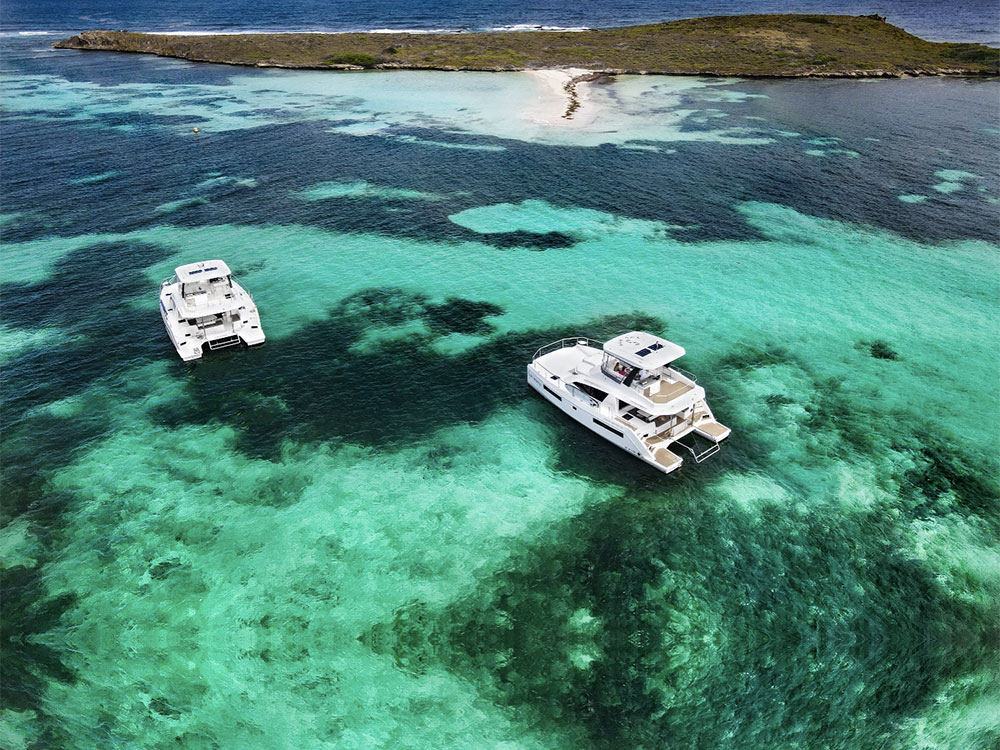 This morning, wake up gently with your yoga teacher for a new Hatha Yoga class on board while enjoying an exceptional view on the beach of the salines and on the island of Sainte Lucie. After a workshop on how to prepare a healthy and balanced brunch, you will head to Ilet Hardy. Upon arrival at Ilet Hardy, you will enjoy a moment of swimming in the calm of this small and peaceful island, only accessible by boat. At the end of the day, you will meet your yoga teacher for a soothing Yin Yoga class and a guided meditation. Tonight, you sleep in the peaceful Baie des Anglais.
This morning, we head for Trou Cochon, one of the most beautiful mangrove swamps in Martinique. There you will meet your yoga teacher for a new workshop of your choice: sound travel (sound yoga), body care workshop with hygiene and beauty recipes based on natural and local products. Before returning to Le Marin, you will enjoy a mooring near the Petite Grenade island in Le Vauclin, with its waters of multiple shades of blue. You will enjoy a cranial or plantar reflexology massage. Head to the marina in Le Marin, where you will meet your yoga teacher for a last guided relaxation. It is now 5:00 pm, your cruise is coming to an end. It's time to take all those wonderful memories with you and meet up with a member of the Sun Sea team at the Marin Marina.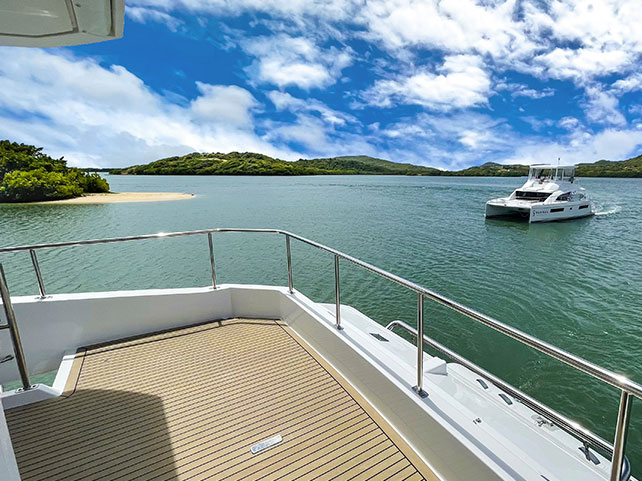 Does this cruise interest you ?
Contact us specifying the themed cruise chosen and the Sun Sea formula best suited to your desires.
*Low season rates calculated on the basis of a crew of 6 passengers