Stay of
8 days / 7 nights
*Low season rate in Sun Sea Discover Formula. For a crew of 6 people, Cruise with skipper, airport / marina transfers Paddles, delayed return supplements, administration fees and cleaning fees included.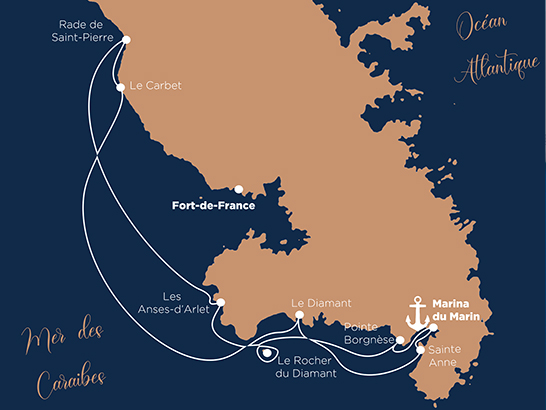 Summary :
D.1 : Boarding at the Marina du Marin – Night at the sailor or at Pointe Borgnèse
D.2 : Anse d'Arlet – Night in Grande Anse
D.3 : Anse d'Arlet – Night in Grande Anse
D.4 : Saint Pierre – Night in Saint Pierre
D.5 : Carbet – Night at Carbet
D.6 : Diamond – Diamond Night
D.7 : Sainte Anne – Night at Sainte Anne
D.8 : Landing at the Marina du Marin
Attention :
Itinerary, activities and anchorages are subject to change depending on weather conditions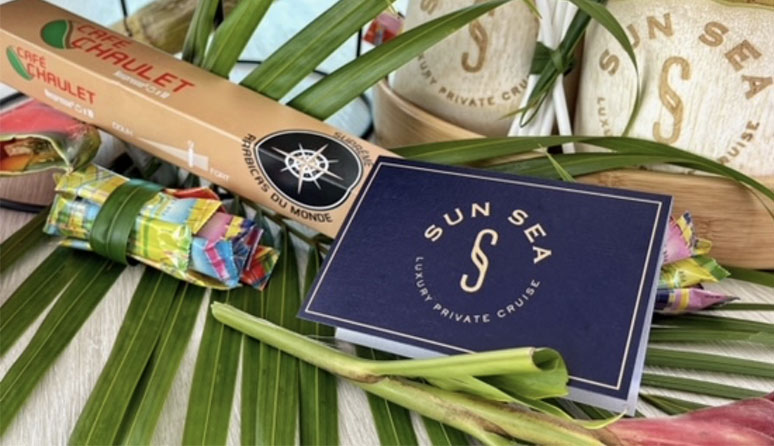 You meet a member of the Sun Sea team with whom you meet your prestigious 43-foot Leopard Powercat motor catamaran. At 5:00 pm, you embark for your first night on board. Tonight, you have two options: you can spend the night at the Marina du Marin or at the Pointe Borgnèse anchorage. Once moored, you can celebrate the beginning of this new adventure and enjoy your cocktail dinner basket composed by our prestigious partner. Creative products and recipes that honor local products and homemade drinks with Martinique flavors.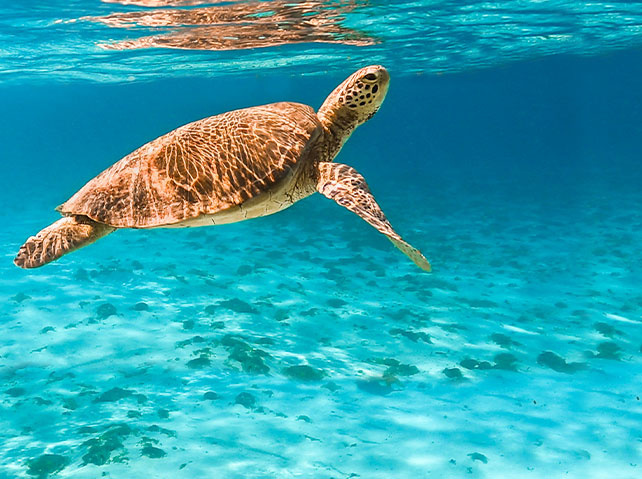 This morning, dive into a natural aquarium to meet marine animals at Pointe Borgnèse, a very famous dive site in Martinique. You then head towards the famous bay of the village of "les Anses d'Arlet". During your journey, you will have the pleasure of sailing at the foot of a real jewel of the Caribbean Sea, the Diamond Rock. You arrive at Anses d'Arlet where you will spend the rest of the morning. Don't miss the opportunity to visit the superb village and its church voted 2nd favorite village of France in 2020. A few meters from the water's edge, an emerging rock is home to a crowd of small multicolored fish. Ideal for observation with mask and snorkel. Then head for Grande Anse, for your first dive with the "Deep Turtle Diving". There are numerous sites suitable for beginners such as Pointe Burgos or the Grandes and Petites Jorasses, rich in fauna and flora. You may even encounter turtles or rays! For experienced divers (minimum level 3), the Tombant des Anses site is to be discovered. This evening, our chef will come on board to serve you an exceptional meal around revisited local flavors.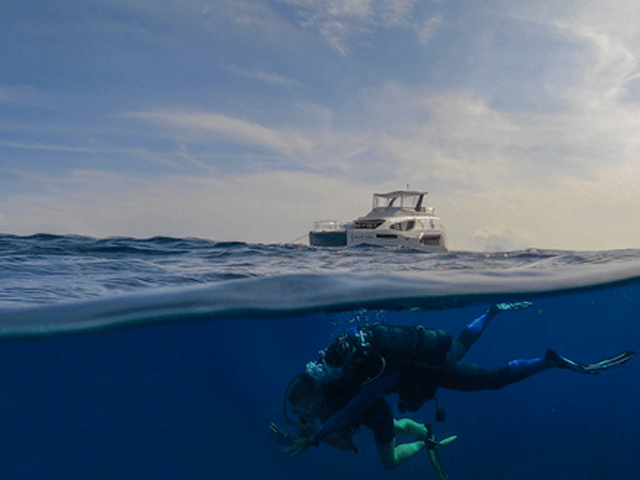 Wake up in front of the beach of Grande Anse d'Arlet which gradually reveals its sumptuous natural setting. It is one of the few beaches where you can already see fish almost at the water's edge, not to mention turtles just a little further from the shore. You will find the "Deep Turtle Plongée" teams for two new dives at Anses d'Arlet, one in the morning and one in the afternoon. Tonight, you eat at one of Grande Anse's famous beach restaurants, with your feet in the sand.
Today, embark on a new stage of your cruise, to discover the northern Caribbean coast. Head to Saint Pierre, the starting point for your next dives. Along the way, we take you to "Fond Boucher", a secret cove accessible only by sea! Then, you find the club "A PAPADLO" for a first dive in the northern Caribbean, very rich in dive sites. In particular, you will be able to explore the wrecks of the bay since at the time of the volcanic eruption of 1902, 40 large merchant ships were at anchor in the bay of Saint-Pierre and all of them disappeared instantly, submerged by the fiery cloud. The most famous sites are Le Roraima, Le Diamant, Le Dahlia and Le Biscaye. Other dive sites are also to be explored further north: Rivière Claire, La Coucoune, Babody, La Citadelle. Our partner APAPADLO will prepare a tailor-made itinerary for you according to your level and your desires. At the end of the afternoon, you will enjoy a magnificent sunset in the bay of St Pierre while tasting the sushi revisited with local flavors from the Sushi Péyi teams, made only from fish caught off our coasts and the range is declined over the months, taking into account the seasonality of local ingredients.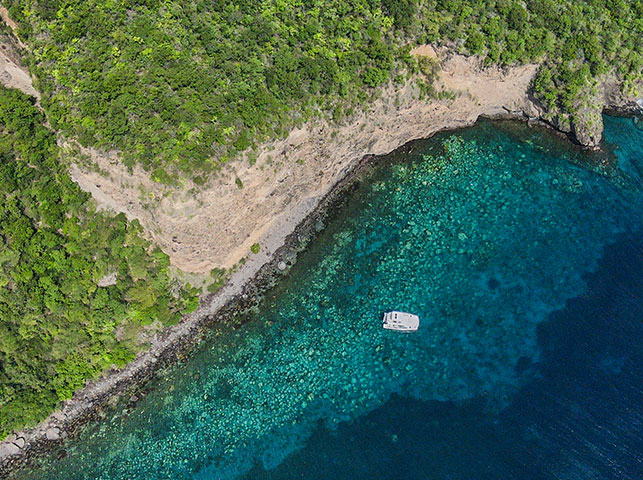 Nicknamed the Little Paris, the Paris of the Isles or the Pearl of the Antilles, you wake up in the harbor of St-Pierre, a city of art and history. Weather permitting, you can admire the majestic Mount Pelée. You find the teams of "APAPADLO" for two new dives in the northern Caribbean, one in the morning and one in the afternoon. This evening, head for Carbet, a very beautiful gray sand beach lined with fishermen's huts, restaurants and skiffs. You dine with your feet in the sand at the Petitbonum restaurant. Enjoy the warm and relaxed atmosphere!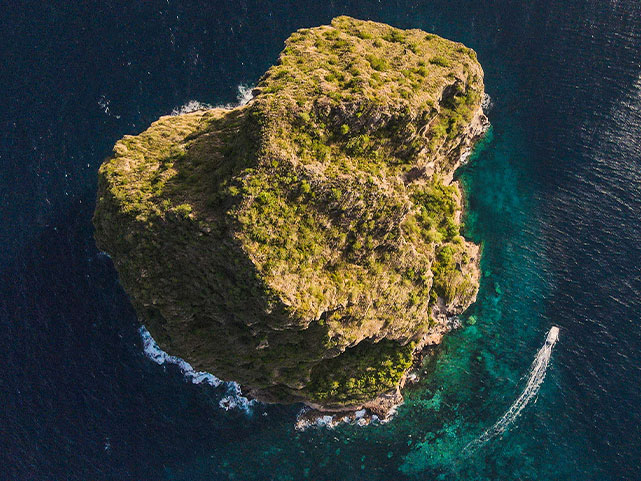 This morning, heading for "le Diamant" and its imposing rock which has lent its name and image to this vast bay. Along the way, you may have the chance to observe dolphins in their natural environment and even whales depending on the time of year. Once at "Le Diamant", you will meet Romuald and his club "DSC Plongée" for a dive this afternoon. Many sites are to be discovered, especially around the Rock which can be explored from all sides. But also Le Banc du Diamant, Le Tombant du village du Diamant, Le Fer à Cheval or L'Arche. This evening, chef Nathanaël Ducteïl and his team offer you a cuisine that magically uses local products for a tasty and surprising Caribbean gastronomic experience on board. Tonight, you sleep in the peaceful bay of the O'Mullane district at Diamant.
This morning, you are sailing towards the last step of your cruise: Sainte Anne. First stop at "Anse Meunier", a large, uncrowded fine sandy beach lined with vegetation. A real postcard! Enjoy a moment of relaxation while bathing in its turquoise waters. Then, you join the village of Sainte Anne and the "Kalinago" club for a dive in the bay of Sainte Anne, the oldest coral reef in Martinique, or in the Atlantic, a privileged breeding ground for eagle rays and turtles (if weather permitting). Many dive sites are to be discovered, depending on your level and your desires: Les Trois Vallées, Le Petit Mur, Ti Voilier, L'Aquarium, La Caye du Poisson Pêcheur or Wakawa. This evening, you will enjoy Sainte Anne and your last evening on board by dining at La Dunette, a cozy restaurant with a superb pontoon on the sea.
It is now 9:00 am, your cruise is over. It's time to take all these wonderful memories with you and to meet up with one of the Sun Sea team members at the Marina du Marin.
Does this cruise interest you ?
Contact us specifying the themed cruise chosen and the Sun Sea formula best suited to your desires.
*Low season rates calculated on the basis of a crew of 6 passengers