CARIBBEAN COAST: TURTLES
AND CORAL ANSES
CARIBBEAN COAST: TURTLES AND CORAL ANSES
Stay of
4 days / 3 nights
*Low season rate in Sun Sea Discover Formula. For a crew of 6 people, Cruise with skipper, airport / marina transfers Paddles, delayed return supplements, administration fees and cleaning fees included.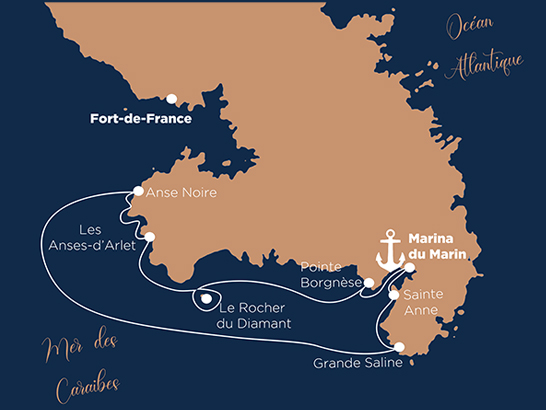 Summary:
D.1 : Boarding at the Marina du Marin – Night at the sailor or at Pointe Borgnèse
D.2 : Anse d'Arlet – Night in Grande Anse
D.3 : Anse d'Arlet – Night in Anse Noire
D.4 : Landing at the Marina du Marin
Attention :
Itinerary, activities and anchorages are subject to change depending on weather conditions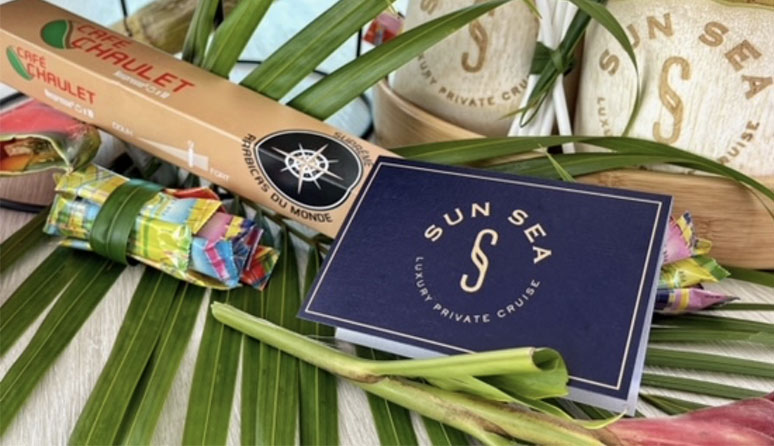 You meet a member of the Sun Sea team with whom you meet your prestigious 43-foot Leopard Powercat motor catamaran. At 5:00 pm, you embark for your first night on board. Tonight, you have two options: you can spend the night at the Marina du Marin or at the Pointe Borgnèse anchorage. Once moored, you can celebrate the beginning of this new adventure and enjoy your cocktail dinner basket composed by our prestigious partner. Creative products and recipes that honor local products and homemade drinks with Martinique flavors.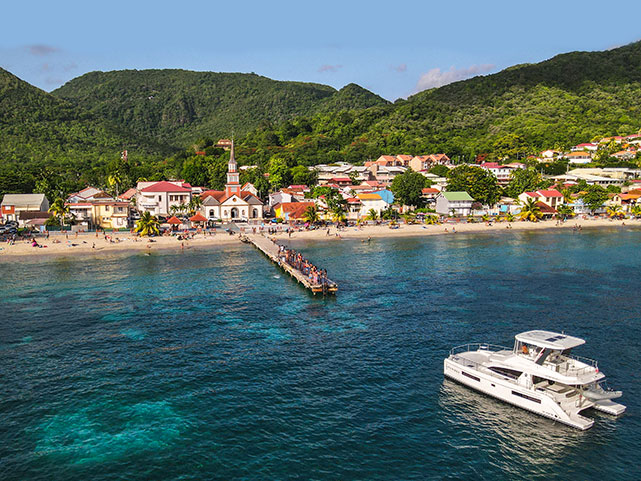 This morning, dive in a natural aquarium to meet the marine animals at "Pointe Borgnèse", a very famous diving site in Martinique. Then you leave for the famous bay of "Anses d'Arlet". During your trip, you have the pleasure to navigate at the foot of a real jewel of the Caribbean Sea, the Diamond Rock. You arrive at "Anses d'Arlet" where you spend the rest of the day. You will have the opportunity to visit the unavoidable village and its church elected 2nd favorite village of France in 2020. A few meters from the water's edge, an emerging rock shelters a crowd of small multicolored fish. Ideal to dive in with mask and snorkel. For dinner, a cooking and tasting workshop is planned on board! You learn how to cook fresh and local food in an original way, so that you can continue to enjoy the Martinique cuisine when you return at home. Tonight, you sleep at Grande-Anse, a long and beautiful golden sand beach, lined up with coconut trees, small houses and restaurants.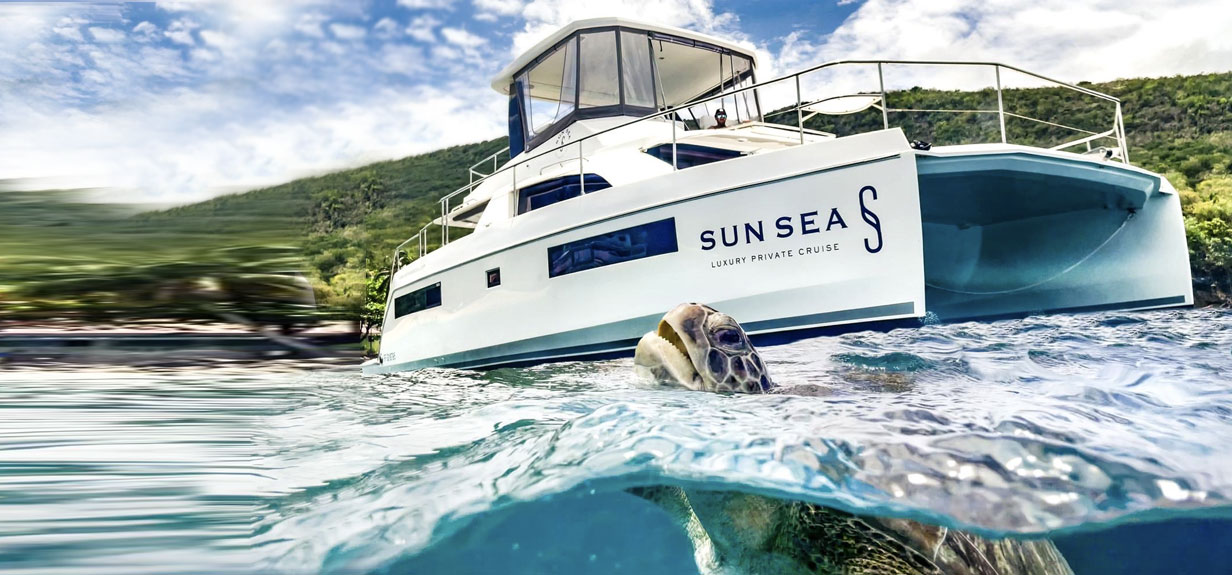 The day rises on the beach of "Grande Anse d'Arlet" and gradually reveals its sumptuous natural setting. It is one of the rare beaches where you can spot fish almost at the water's edge, not to mention turtles just a little further off the shore. Seabob, towed buoy, snorkeling or scuba diving, there will be something for everyone! Today, you lunch at the Ti Sable restaurant, in an idyllic setting with your feet in the water, in the shade of the small cabins. On the program: cocktail bar, lobster and caribbean specialties. This afternoon, why not navigate to the beautiful creek of Cape Solomon where you can enjoy a moment to relax and explore the surroundings by paddle. At the end of the day, head to "Anse-Noire" for an evening at this small, peaceful black sand beach, lined up with coconut trees, skiffs and fishermen's nets, perfect for relaxing. You can enjoy a moment of relaxation at Cap Salomon, famous for its seabed where you can explore the surroundings by paddling on a stand up board or snorkeling.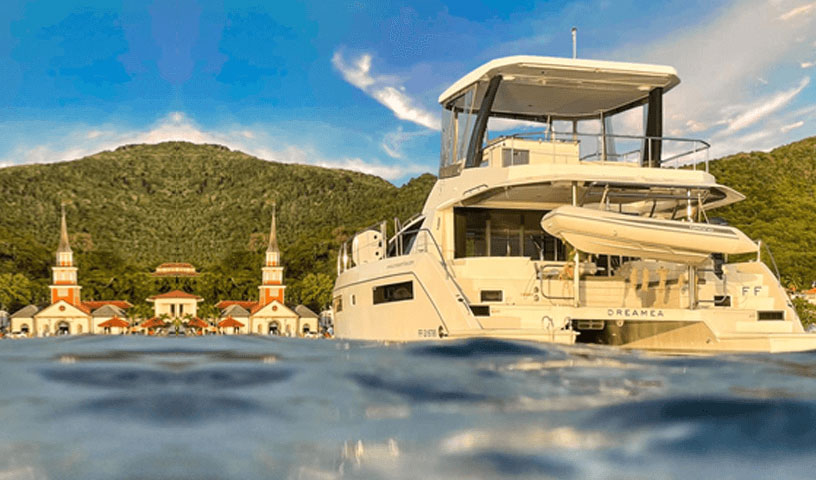 Wake up in front of the wild beach which bears its name well, indeed its sand has the particularity of being black. This morning, you go looking out for turtles at "Anse-Dufour", a small cove with turquoise waters, golden sand and fishermen's huts. Once you get a few meters away from "Anse-Noire", it offers a very different scenery from the latter. Why not take this opportunity of this moment to do a little paddle on a stand up board? At the end of the morning, you enjoy a delicious brunch concocted by our Chef : a unique and authentic sensory experience that revolves around a brunch with local flavors! Then, you go along the west coast to reach Sainte-Anne and the "Grande Anse des Salines", one of the most beautiful beaches of Martinique. A real postcard with its white sand and its coconut trees leaning on the sea! You can take opportunity of this anchorage for a hike to the "Savannah of petrifications", a desert space where fossil trunks could be seen in the past, or for a last swim in this idyllic setting. It is now 5:00 pm, your cruise is coming to an end. It's time to take all those wonderful memories with you and meet up with a member of the Sun Sea team at the Marina du Marin.
Does this cruise interest you ?
Contact us specifying the themed cruise chosen and the Sun Sea formula best suited to your desires.
*Low season rates calculated on the basis of a crew of 6 passengers